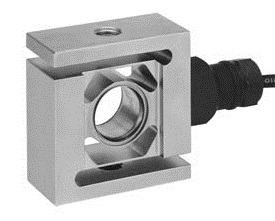 Model UB6 is a stainless steel universal load cell which allows for tension and compression loading. Its complete hermetic sealing makes it suitable for use in harsh industrial environments.
Crane scales and hanging scales

Force measurement in material testing machines

Lifts and other general tension applications
Features:
Capacities from 1kN to 5kN (102 kg to 510 kg)

Stainless steel construction

Environmental protection to IP68 with complete hermetic sealing

High input resistance

Calibration in mV/V/

Ω
Capacities:
---
Model 363 is a multipurpose nickel-plated S-type load cell which can be used in tension or compression.
This product is suitable for a wide range of hybrid scales, overhead track scales, belt scales, and process weighing applications.
Reliable sealing is ensures by the proprietary TRANSEAL potting compound and additional mechanical protection of the strain gage area.
Suspended hoppers

Overhead track scales

Force measurement
Features:
Capacities from 50 to 10000kg (50 to 20k lbs)

Nickel-plated steel construction

Certified to NTEP class III 3000d and class IIIL 10000d

Suitable for compression and tension applications

Trimmed output versions available

Sealed to IP65
Option:
FM approved for use in potentially explosive atmospheres
Capacities:
50, 100, 250, 500, 1000, 2500, 5000, 7500, 10000 (kg)

50, 75, 100, 150, 200, 250, 300, 500, 750, 1k, 1.5k, 2k, 2.5k, 3k, 5k, 10k, 15k, 20k (lbs)
---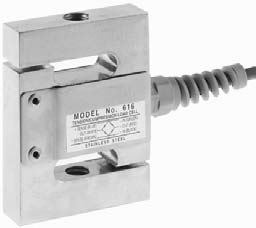 Models 615 and 616 are tension compression load cells which share the same dimension. Humidity-resistant coating and shielded cables enable these load cells to be used in harsh environments while maintaining their operating specifications.
The additional sense wires compensate for changes in lead resistance due to temperature change and/or cable extension.
Ideally suited for lever conversions, hanging scales, force measurement and a wide range of other industrial applications.
Model 616 is made from stainless steel and has bonded covers for additional protection (except 50 kg). An alternative version is made from alloy steel (Model 615), with riveted covers.
Hopper (tank weighing)

Hybrid scales

Belt weighing

Lever arm conversions

Material testing machines

Vibrations filling equipment

Dynamometers
Features:
Capacities from 50 - 1000 kg

Nickel-plated alloy steel (615) or stainless steel (616)

IP67 protection

For use in tension or compression

6-wire (sense) circuit

Model 615 output standardized to +/-0.1
Option:
EEx ia IIC T4 hazardous area approval
Capacities:
50, 100, 150, 200, 300, 500, 750, 1000 kg